Smith & Fong Introduces Flexible Carved Bamboo Acoustical Wall Panels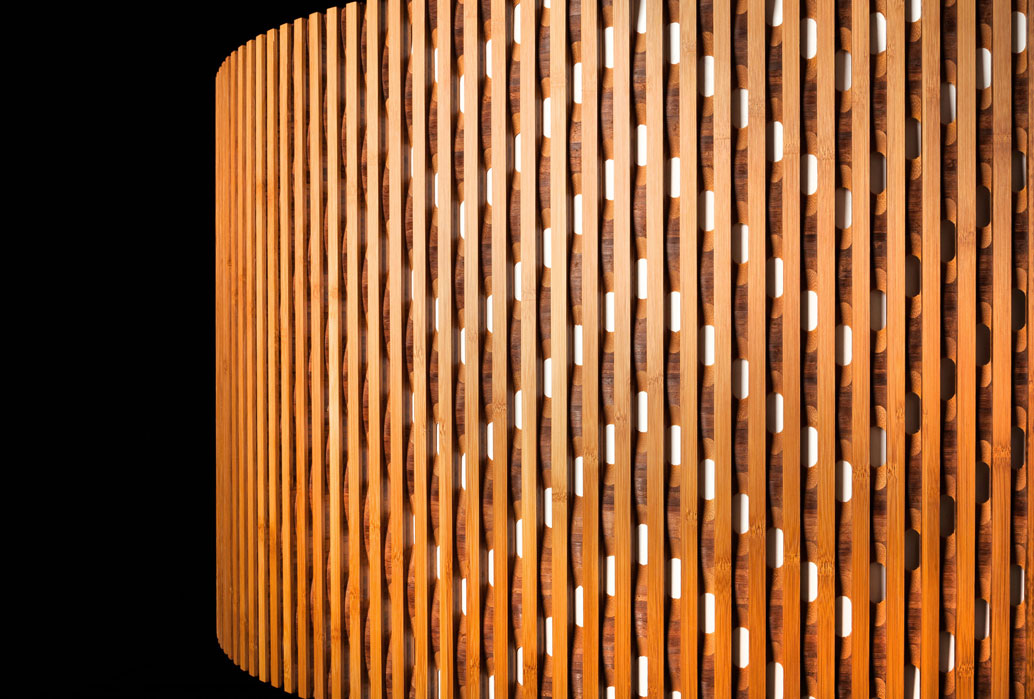 San Francisco, Calif.—September 28, 2017 —Smith & Fong Company, manufacturer of Plyboo® bamboo architectural panels and flooring products, today announced the launch of The Living Hinge Collection™  a new line of flexible acoustical panels made from carved bamboo plywood.
"The Living Hinge Collection was developed to tackle design challenges with walls that don't conform to right angles," Smith & Fong president Angus Stocks said. "Utilizing CNC technology, these panels can literally bend around a corner to provide visual continuity – and sound-reducing performance – for non-standard interior walls."
By definition, a "living hinge" is a thin flexible hinge (flexure bearing) made from the same material as the two rigid pieces it connects. Utilizing the enticing movement and remarkable strength associated with a CNC-enabled flexible hinge, Smith & Fong has engineered an otherwise rigid material to flex effortlessly into a 24″ (610mm) radius.
"We explored a broad range of scale and depth geometries that ultimately lead us to create a collection of nine 'uniquely bendable' designs," Stocks said.
The Living Hinge Collection™ is available in many colors, including Natural and Amber Fog, Noir and Storm. Functioning as a high performance acoustical system, the panels receive a noise reduction coefficient up to 0.7.  Panels can be backlit and used in various applications such as walls, ceilings, screens, and columns. Standard dimensions are 0.5″ x 47.75″ x 95.75″ (12.7mm x 1213mm x 2432mm) and the design patterns are matched so the design lines up side to side, top to bottom, panel to panel allowing the assembly of a wall or other surface of any size or dimension.
Produced in the United States from imported and domestic components, Living Hinge panels can contribute to multiple USGBC LEED credits, including Certified Wood and Low-Emitting Materials. These panels come standard with a Class C fire rating, but can be specified Class B or in some cases, Class A. FSC® 100%-certified bamboo can also be specified with any of the designs. The Living Hinge line is part of Smith & Fong's carved panel product range, which also includes the Reveal™, Sound™, Linear™ and LinearSound™ Collections.
Founded in 1989 and headquartered in San Francisco, Smith & Fong Co. was the first U.S. company to manufacture and import laminated bamboo products for sale in North America. Today, the company's products are distributed throughout the Americas, Europe and the Middle East and Asia. Smith & Fong is committed to sustainability, innovation and great design. For further information call 866-835-9859 or visit plyboo.com.
See more info on SMITH & FONG INTRODUCES FLEXIBLE CARVED BAMBOO ACOUSTICAL WALL PANELS …